Caracterización de pigmentos extraídos de algas rojas de la Antártida para su posible uso en celdas solares del tipo DSSC
Palabras clave:
ficoeritrina, algas rojas, DSSC
Resumen
En este trabajo se realizó la extracción en medio acuoso de ficoeritrina proveniente de algas rojas de la Isla Rey Jorge. Las especies que mostraron mejores rendimientos de extracción fueron Palmaria decipiens y Delesseria lancifolia. Esta ficoeritrina mostró un comportamiento adecuado para su uso como sensibilizador en celdas de tipo DSSC (dye sensitized solar cells), con altos valores de absorbancia, buena estabilidad con la temperatura y adecuado potencial redox.
Descargas
Los datos de descargas todavía no están disponibles.
Citas
Armeli Minicante, S., Ambrosi, E., Back, M., Barichello, J., Cattaruzza, E., Gonella, F., Scantamburlo, E. y Trave, E., 2016. Development of an eco-protocol for seaweed chlorophylls extraction and possible applications in dye sensitized solar cells. En: Journal of Physics D: Applied Physics, 49, pp.295601–295608.

Armeli Minicante, S., Citro, I., Morabito, M., Genovese, G. y Calogero, G., 2015. Algal pigments as dye sources in the solar photovoltaic technology. En: Journal of Biological Research, 88, pp.28.

Bisquert, J., Cahen, D., Hodes, G., Rühle, S. y Zaban, A., 2004. Physical chemical principles of photovoltaic conversion with nanoparticulate, mesoporous dye-sensitized solar cells. En: Journal of Physical Chemistri B, 108, pp.8106–8118.

Bhogaita, M., Shukla, A.D. y Nalini, R.P., 2016. Recent advances in hybrid solar cells based on natural dye extracts from Indian plant pigment as sensitizers. En: Solar Energy, 137, pp. 212–224.

Cerdá M.F. y Enciso P., 2014.Caracterización de las antocianinas de la flor de ceibo como sensibilizadores naturales para su uso en celdas fotovoltaicas. En: INNOTEC, 9, pp.91–96.

Cao, Y.M., Bai, Y., Yu, Q.J., Cheng, Y.M., Liu, S., Shi, D., Gao, F.F. y Wang, P., 2009. Dye-sensitized solar cells with a high absorptivity ruthenium sensitizer featuring a 2-(Hexylthio)thiophene conjugated bipyridine. En: Journal of Physical Chemistry C, 113, pp.6290–6297.

Chen, C.Y., Wang, M.K., Li, J.Y., Pootrakulchote, N., Alibabaei, L., Ngoc-le, C.H., Decoppet, J.D., Tsai, J.H., Grätzel, C., Wu, C.G., Zakeeruddin, S.M. y Grätzel M., 2009. Highly efficient light-harvesting ruthenium sensitizer for thin-film dye-sensitized solar cells. En: American Chemical Society, 3, pp.3103–3109.

D'Agnolo, E., Rizzo, R., Paoletti, S. y Murano E., 1994. R-phycoerythrin from the red alga Gracilaria Longa. En: Phytochemistry, 35, pp.693–696.

Enciso, P., Cabrerizo, F.M.,Gancheff, J., Denis, P. y Cerdá, M.F., 2013. Phycocyanin as potential natural dye for its use in photovoltaic cells. En: Journal of Applied Solution Chemistry and Modelling, 24, pp.25–233.

Enciso, P. y Cerdá, M.F., 2016. Solar cells based on the use of photosensitizers obtained from Antarctic red algae. En: Cold Regions Science Technology, 126, pp.51–54.

Enciso, P., Decoppet, J.D.,Grätzel, M., Wörner, M., Cabrerizo, F.M. y Cerdá, M.F., 2017. A cockspur for the DSS cells: Erythrinacrista-galli sensitizers. En: Spectrochimica Acta Part A: Molecular and Biomolecular Spectroscopy, 176, pp.91–98.

Enciso, P., Decoppet, J.D.,Moehl, T., Grätzel, M., Wörner, M. y Cerdá M.F., 2016. Influence of the adsorption of phycocyanin on the performance in DSS cells: and electrochemical and QCM evaluation. International. En: Journal of Electrochemistry. Science, 11, pp.3604–3614.

Enciso, P., Minini, L., Álvarez, B. y Cerdá, M.F., 2012. Ensamblado de ficocianina sobre TiO2 nanoestructurado para celdas fotovoltaicas. En: INNOTEC, 7, pp.69–74.

Ficner, R. y Huber, R., 1993. Refined crystal structure of phycoerythrin from Porphyridiumcruentum at 0.23-nm resolution and localization of the subunit. En: European Journal of Biochemistry, 218, pp.103-106.

Gao, F., Wang, Y., Shi, D., Zhang, J., Wang, M.K.,Jing, X.Y., Humphry-Baker, R., Wang, P., Zakeeruddin, S.M. y Grätzel, M., 2008. Enhance the optical absorptivity of nanocrystalline TiO2 film with high molar extinction coefficient ruthenium sensitizers for high performance dye-sensitized solar cells. En: Journal of American Chemical Society, 130, pp.10720–10728.

Glazer, A.N., West, J.A. y Chan, C., 1982. Phycoerythrins as chemotaxonomic markers in red algae: a survey. En: Biochemical Systematics and Ecology, 10, pp.333–215

Isailovic, D., Li, H.W. y Yeung, E.S., 2004. Isolation and characterization of R-phycoerythrin subunits and enzymatic digests. En: Journal of Chromatography A, 1051, pp.119–130.

Kakiage, K., Aoyama, Y., Yano, T., Oya, K., Fujisawa, J.-I. y Hanaya, M., 2015. Highly-efficient dye-sensitized solar cells with collaborative sensitization by silyl-anchor and carboxy-anchor dyes. En: Chemical Communications, 51, pp. 15894-15897.

Liu, L.N., Su, H.N., Yan, S.G., Shao, S.M., Xie, B.B., Chen, X.L., Zhang, X.Y., Zhou, B.C. y Zhang, Y.Z., 2009. Probing the pH sensitivity of R-phycoerythrin: Investigations of active conformational and functional variation. En: Biochimica et Biophysica Acta 1787, pp.939–946.

Munier, M., Jubeau, S., Wijaya, A., Morançais, M., Dumay, J., Marchal, L., Jaouen, P. y Fleurence, J., 2014. Physicochemical factors affecting the stability of two pigments: R-phycoerythrin of Grateloupia turuturu and B-phycoerythrin of Porphyridium cruentum, En: Food Chemistry, 150, pp. 400-407.

Prabavathy,N., Shalini, S., Balasundaraprabhu, R., Velauthapillai, D., Prasanna, S. y Muthukumarasamy, N., 2017. Enhancement in the photostability of natural dyes for dye-sensitized solar cell (DSSC) applications: a review. En: International Journal of Energy Research, 41(10), pp. 1372-1396. DOI: 10.1002/er.3703.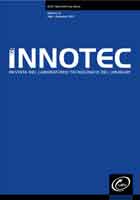 Archivos adicionales
Cómo citar
De Bon, M., Hurtado, J., Enciso, P., Armeli Minicante, S., & Cerdá Bresciano, M. F. (2017). Caracterización de pigmentos extraídos de algas rojas de la Antártida para su posible uso en celdas solares del tipo DSSC. INNOTEC, (14 jul-dic), 44–49. https://doi.org/10.26461/14.02
Licencia
Los autores del manuscrito declaran conocer y aceptar los siguientes términos de responsabilidad:
Haber participado lo suficiente en el trabajo como para hacer pública la responsabilidad por su contenido.
Que el manuscrito representa un trabajo original que no fue publicado ni está siendo considerado por otra revista para su publicación, en parte o en forma íntegra, tanto impresa como electrónica.
Que en caso de ser solicitado, procurará o cooperará en la obtención y suministro de datos sobre los cuales el manuscrito esté basado.
Declara que la información divulgada que pudiera pertenecer a un tercero cuenta con la autorización correspondiente.

Autorización para la publicación y compromiso de cita de primera publicación
Los autores/as conservan los derechos de autor y ceden a la revista INNOTEC / INNOTEC Gestión el derecho de la primera publicación, con el trabajo registrado con la licencia de atribución Creative Commons Reconocimiento-NoComercial 4.0 Internacional. Creative Commons, que permite a terceros utilizar lo publicado siempre que mencionen la autoría del trabajo y a la primera publicación en esta revista sin fines comerciales.
El autor se compromete a realizar la cita completa de la edición institucional de esta primer publicación en las siguientes publicaciones -completas o parciales- efectuadas en cualquier otro medio de divulgación, impreso o electrónico.
Los autores/as pueden realizar otros acuerdos contractuales no comerciales independientes y adicionales para la distribución no exclusiva de la versión del artículo publicado en esta revista (p. ej., incluirlo en un repositorio institucional o publicarlo en un libro) siempre que indiquen claramente que el trabajo se publicó por primera vez en esta revista.
Se permite a los autores/as publicar su trabajo en Internet (por ejemplo en páginas institucionales o personales) antes y durante el proceso de revisión, ya que puede conducir a intercambios productivos y a una mayor y más rápida difusión del trabajo publicado (vea The Effect of Open Access). A su vez los autores/as autorizan al LATU a publicar el trabajo en su repositorio digital.
Los conceptos y opiniones vertidos en los artículos son de responsabilidad de sus autores.
Este obra está bajo una licencia Reconocimiento-NoComercial 4.0 Internacional.